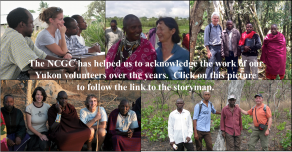 We appreciate the very excellent work that our many volunteers have contributed to the various projects and activities in Africa over the years.  They have traveled, shared their expertise and worked with our local partners and staff all at their own expense.  The following list identifies those very important individuals and the projects or partnerships to which they contributed.  Please follow the links for some of our volunteers to find out more about them and about their project activities.
Maureen Abbott   –   EMAYO
Alanna Bennett   –   PECC / Kihembe
Karen Clyde   –   PAPR / PECC / Kihembe
Justine Cowitz – Kihembe
Bruce Downie   –   all Africa programs
Courtney Edwards   –   PAPR
Lara Falkiner  –  Kihembe / Enguserosambu Forest Trust
Vanessa Falle   –   Kihembe
Miche Genest – Enguserosambu Forest Trust
Ryan Hennessey   –   PECC / Kihembe
Leslie King   –   PAPR
Hector MacKenzie – Enguserosambu Forest Trust
Brooke McKenzie   –   Kihembe
Mark Miller   –   PAPR
Birch Howard   –   PAPR
Mike Oleskiw – WEC / Kihembe
Alex Papp – Kihembe
Kath Selkirk   –   EMAYO
Kiri Staples   –   PAPR
Jim Taggart   –   EMAYO
Jennifer Trapnell   –   EMAYO
Erik Val – Enguserosambu Forest Trust
Lorraine Wapling   –   all Africa programs
Some of our very valuable volunteers have not contributed overseas but rather at home.  Their work has been just as critical to our success and we appreciate their contributions as well.  Like the list above, the people are identified along with the nature of their contribution and you can follow the links to learn more about them and what they do.
James Banks   –   Kihembe video
Erica Heuer   –   displays for promotional events
Andrea Kenderova   –   accounting for KT Canada
Jason Mackey   –   website and internet management – poster display
Rachel Mason   –   Kihembe concept
Kelly Milner   –   fundraising startegies
Nicolas Roy   –   Kihembe wesbite
Suzanne Simard   –   EMAYO / EMAYO Canadian tour
Jackie Worboys   –   EMAYO Canadian tour
Another very important group of volunteers are those Tanzanians who have brought their skills, interest, commitment and local knowledge to our project work because they believe in what we are doing and want to contribute.  These individuals have been immensely important because of their knowledge of the people and the culture of the places we work and they have provided invaluable support to international volunteers who have sometimes worked with them.
Julius Daniel – Enguserosambu Forest Trust / Kihembe
Emmanuel Ole Kileli – EMAYO Executive Director
Vaileth Mashauri – Office Manager
Evaline Munisi   –   PAPR
Agnes Sirima   –   PAPR / Kihembe / PECC / PALISEP
We also want to recognize here those folks who take on official roles within the organization even though they are profiled elsewhere on the website.  Our advisors and members of the board are all volunteers and their contributions in their official capacity is also very much appreciated.
Past Advisors:
Peter Campbell [Can]
Carol Hall [Can]
Leslie King [BC]
Stuart Mulholland [UK]
Wayne Sawchuk [Can]
Lorraine Wapling [UK]
Art Wright [Can]
Current Board of Directors [Canada]:
Bob Brown [AB]
Karen Clyde [YK]
Bruce Downie [YK]
Brent Liddle [YK]
Past Board Members [Canada]:
Rob Cairns [BC]
Art Hoole [ON]
Leslie King [BC]
Lauren Law [BC]
Bob Peart [BC]
Ellen Perkins [BC]
Art Wright [BC]
Current Board of Directors [Tanzania]:
Emmanuel Ole Kileli [Elerai]
Peter Millanga [Arusha]
Julius Daniel [Dar Es Salaam]
Past Board Members [Tanzania]:
Alex Kisingo [Moshi]
Victoria Mushi [DSM]
Agnes Sirima [Morogoro]
Jafari Kideghesho [Moshi]
Alfred Kikoti [Arusha]