This week the leaders of the I-CAN project are meeting with the project donors, the Social Science and Humanities Research Council [SSHRC] and the International Development Research Centre [IDRC], to finalize details of the project implementation.  I-CAN is led by John Galaty of McGill University and in Africa by David Western of the Africa Centre for Conservation [ACC] in Nairobi, Kenya.
I-CAN [International Canopy of Consetrvation] is an ambitious effort involving a host of institutional and NGO partners in Canada, Kenya and Tanzania.  These partners are focusing research and development action efforts in eight study areas in the border regions between Kenya and Tanzania.   This project addresses the challenge of combining protection of biodiversity with strengthened livelihoods, whether through recognizing local rights over resources, livelihood diversification, or stimulation of a new green, post-oil economy, including tourism. The primary goal of the project is to identify the most effective designs for future community-based conservation programs by examining the impacts of ongoing conservancy experiments on community livelihoods and members' attitudes and practices towards natural resources.  The findings will provide the basis to address critical issues of public policy — at local, national and global levels – regarding the rights and obligations of communities in managing and utilizing the natural resources on which communities depend.

The Kesho Trust is pleased to be part of this initiative.  Through our previous work we are directly linked with PALISEP, our local partner based in Enguserosambu village and actively working on the challenges of sustaining both conservation and local livelihoods.  Partners from our previous PAPR research initiative, the University of Victoria and the College of African Wildlife Management, are also participating and together with us will focus our research and coordination in the Loliondo study area in support of PALISEP.  The participation in I-CAN is widespread and so we also envision extending our network of partners not only in Tanzania through NGO's such as Sauti Moja and TNRF but also in Kenya.
Taking advantage of the presence of some of our African partners, a meeting was convened at McGill on Monday, September 29th.  The meeting included a number of key project participants.  Lucy Waruingi from ACC and Joseph Ole Simel from MAPIDO, both from Kenya, were in attendance as were representatives from universities in Montreal and Ottawa.  I happened to be in Montreal at the time and was pleased to be able to attend and contribute to the discussion on behalf of both the University of Victoria and Kesho Trust.
A significant outcome of the meeting set the project process in motion.  It was agreed that a key group of Canadian based Co-Applicants would formulate a research process framework by the end of October that would then be circulated for review and assessment.  It would then serve as the basis for a meeting of African partners tentatively scheduled for late November or early December.  Meeting participants discussed aspects of the research process and proposed short term priorities including a comprehensive overview of the issues in the study region along with some key elements of needed baseline surveys in the areas of: active stakeholders; livelihood activities; attitudes to conservation and livelihood strategies; and the policy context.  These ideas will be worked through in more depth as part of the research process framework now under development.
Discussion also identified a short term priority for the development of a project website which would present a public profile of the project and at the same time have an internal function for communications, information sharing and date storage for project participants.  ACC has experience with such mechanisms and will lead in the establishment of the site.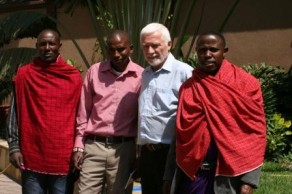 Kesho Trust's role in the I-CAN will develop in response to the project's structures and processes but the focus will be in working with our partner PALISEP in the Loliondo study area and supporting the research and development agenda we have been planning with them to date.
We will maintain regular updates on our website, through our newsletters and this journal.  Please sign up to receive our newsletter so that you can stay up to date on progress within I-CAN as well as our other activities.