As the Canadian representative to the Tanzanian Board of Directors, I have taken a fairly prominent role in the development of the Kesho Trust program in Tanzania. I attempt to visit regularly and this recent visit had a fairly extensive agenda of activities. I have tried to capture the highlights in this journal entry with brief notes on each of the topic areas I addressed during the trip.
Fundraising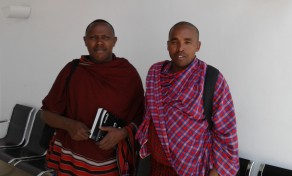 We have developed a partnership initiative with our Loliondo partners, the Enguserosambu Forest Trust, based on the work of our volunteer Lindsay Staples following his month long assignment in the village late last year. On this trip I joined with EFT members, Samwel Nangiria (L) and Mark Talash (R) [see photo], to promote the initiative to representatives of a number of donor agencies in Dar es Salaam. Not all connections were possible during the trip but Director Victoria Mushi is following up with the Canadian High Commission representatives. Our meetings generated considerable interest. Besides building a network of informed and interested organizations we are hoping that funding support for the work will also follow.
Board Member Meetings
The logistics of gathering board members together at a single location proved impossible this trip so instead I met with board members at different times. I met with Dar es Salaam based members, Sympho Hangi and Victoria Mushi and subsequently with Agnes Sirima and Alfred Kikoti in Morogoro. Unfortunately I was unable to connect with the last member of the board Jafari Kideghesho as he is now based in Moshi and my time was too short to make that trip. However the meetings were productive and I thank the board members for their continuing active support.
Meeting with Volunteers
One of the important ways that Kesho Trust works is through volunteers. We have had a significant number of people from Canada go to work on our projects and with our local partners. What allows this to happen is the link between international volunteers and local Tanzanian staff and volunteers. Without that local support hosting our Canadian volunteers would be impossible. We are looking to expand the cadre of local volunteers so that we can utilize more international students and interns that are becoming available to us.
I met with interested Tanzanians in Dar es Salaam during this trip to determine the level of interest and to explore the range of activities these young people would be interested in. We are encouraged to find many people, typically recent university graduates, looking for experience with an organization like the Kesho Trust. We now need to raise the necessary funds to allow them to be supported in their work, especially in the field assignments that are available in Kihembe.
Miseni Visit
It is always enjoyable to visit our project sites outside of Dar es Salaam.  On this occasion I was hosted by Costa Coucoulis, Director of our partner organization SANA, at his new camp in Gongo.  The visit provided an important opportunity to view and discuss efforts to conserve buffer lands to the Zaraninge Forest in the area between Gongo, Matipwili and the Wami River.
Kihembe facility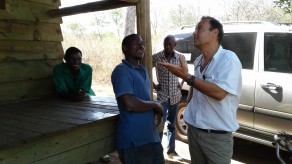 A key part of the reason for visiting the Saadani area was to check the facilities at Kihembe and determine what finishing was necessary to prepare for international students coming to live and work there in the new year.  We met with Juma, our onsite caretaker, and made plans for improvements that will be undertaken.
New village forest conservation
Representatives of the village of Manda Mazingara connected with our Kihembe team while we were in Mkange. They invited us to visit a forest area within their village. They wanted us to work with them to protect the forest and at the same time develop benefits to the community that would raise the level of well being of residents.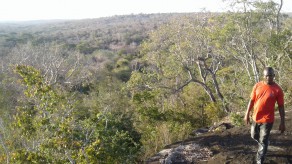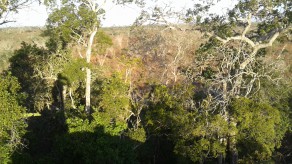 The forest landscape was interesting and in relatively good condition although like most of the village areas around Saadani deforestation for purposes of charcoal production was reducing protected landscapes at an alarming rate. The fact that this village recognized the issue and wanted to do something about it before it was too late was extremely encouraging. A spiritual hill was a prominent feature that we visited and our guides reported the presence of interesting wildlife.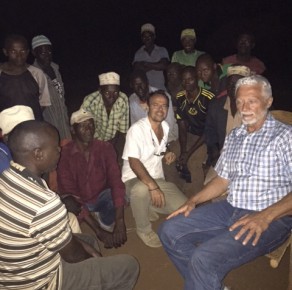 Following the field visit we met with a group of elders and community leaders to discuss what could be done. Although no commitments were made we suggested that further study of the potential might be undertaken by students who we anticipated would be coming to work at Kihembe in January. Once further review was possible we could then sit and discuss future plans.
Office
We have not taken advantage of the office space donated to us over the past year by Nicola Colangelo in part because of its location. We are currently investigating other space and setting up volunteer assistance to run the office on a regular basis. There will be more news on the plans when they are confirmed.