Yukon, Canada to Dar es Salaam, Tanzania is a long, long way …. but the opportunity to work with the Kesho Trust on an environmental education centre near Saadani National Park made it all worthwhile – what an experience! 
I was traveling with Bruce Downie, Kesho Trust Director and Ally Abdallah, who works with a Kesho Trust partner organization Saving Africa's Nature [SANA].  Our first stop was the village office in the small community of Mkange, just a few kilometres from the environmental education site on village land.  There we were cordially welcomed by the Village Chairman, Mwinyimvua Ahida, and the Village Executive Officer, Hussein Msilo to review the project and the status of the village land being provided for the centre.  Thankfully Ally provided the Swahili translation for our conversation.  Afterward we piled into the truck and headed off to the site.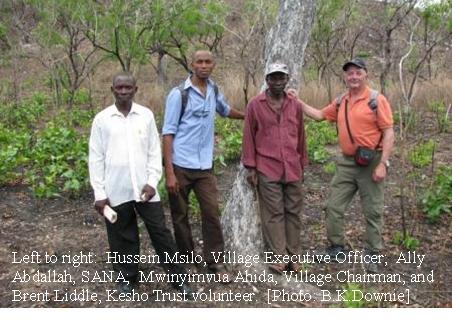 The location is perfect.  The property is situated along the main all-weather road to Saadani National Park from the Dar es Salaam to Arusha highway.  The main road skirts about 200 metres of the Kesho Trust and SANA property of 100 acres which is centred on three prominent rock outcrops.  The property is well treed and offers great views into Saadani Park a few kilometres away and right to the Indian Ocean.  We circled the area to get a feel of the land [and the heat, 35+ degrees Celsius], climbing the centre rock outcrop to its highest point before descending towards an old road, which would make an ideal access route to the property.
On the property, the Kesho Trust envisions an environmental education centre composed of a number of facilities including office space and reception, meeting rooms, a kitchen and accommodation, library and resource centre and most notably an interpretive centre with interior and exterior exhibits.
My job as an interpretive planner is to develop the storyline of the centre and translate that information into exhibits, displays and programs for visitors that complement the local school curriculum.  Our next task is to more accurately map out the proposed facilities and develop a conceptual interpretive plan.  Within a few years our mission of educating and encouraging the youth of Tanzania to become better stewards of this land will be realized.  A great project to be involved with!
Brent Liddle
Interpretive Planning Volunteer
Yukon, Canada and now Tanzania
For some background on Brent see – Brent's profile
More photos from the site visit.  Photos: Brent Liddle