EMAYO promotional tour in Canada – 2010
Emmanuel Ole Kileli, Chairman of Ereto Maasai Youth [EMAYO] came to Canada for a six month visit in 2010. Besides improving his English to help in his continuing education, he traveled to different parts of the country to talk with Canadians about his culture, the issues facing pastoralists in Tanzania and about the work of his organization.  
He is very interested in forming partnerships with school and community groups in Canada, encouraging active research and exchange of ideas about pastoralist issues and encouraging support for the work of his organization.
Here is an outline of his major speaking tour while he was with us in Canada. Emmanuel also wrote a letter of thanks to all he met during his time here. You can read the letter here – Emmanuel's letter.
You can contact us with ideas and expressions of interest in becoming involved with his work. Please email us at: info@trust.firstcontactdesign.com for more information or to be in touch with Emmanuel's organization.
February 6:
– arrives in Montreal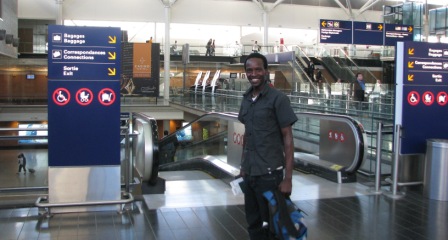 February 20:
– presentation to groups at Immaculata High School, Ottawa
March 15:
– travels to Whitehorse, Yukon
March 23:
– interviewed on CBC Yukon radio
– press coverage of his visit in the Whitehorse Star
– public presentation at the Arts Underground in Whitehorse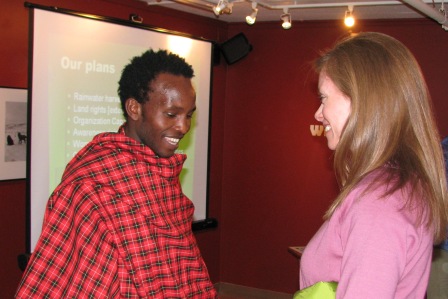 March 24:
– presentation at F.H. Collins Secondary School, Whitehorse
March 26
– presentation at Vanier Catholic Secondary School, Whitehorse
March 30:
– presentation at Yukon College, Whitehorse
March 31:
– presentation at Rotary – Whitehorse Midnight Sun Branch
– presentation at Kluane Visitor Centre, Haines Junction
April 21:
– leaves Montreal for Peterborough on the start of a tour across Canada to Vancouver Island. Emmanuel will be stopping at various locations along the way, meeting people, speaking to groups and seeing a lot of Canada. The Kesho Trust would like to thank all those people who are supporting him during his tour. It is a very important contribution and one that we simply could not have done without.
April 22:
– hosted by Dan Paleczny [Ministry of Natural Resources] and Julie Cosgrove [Kawartha World Issues Centre]
– presentation at Peterborough Collegiate and Vocational School
– dinner meeting Trent University students in International Relations Studies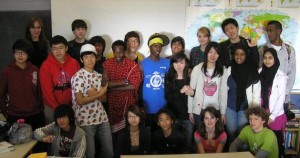 April 23:
– presentation at Ministry of Natural Resources
April 24:
– travel to Ottawa
– hosted by Bente and Andrew McAlister
April 27:
– presentation at Immaculata High School
– dinner with Tanzanian High Commissioner to Canada and CIDA staff from Tanzania
April 28:
– hosted by Rosemary O'Shaughnessy
May 1:
– depart Ottawa for Winnipeg
May 2:
– arrive in Winnipeg
– hosted by Margaret Downie, Andrea Philp and Paul Downie
May 4:
– depart Winnipeg for Revelstoke
May 5:
– arrive Revelstoke
– hosted by Robert Jay and Jennifer Wolney
May 6:
– presentation at Revelstoke Secondary School
– presentation at Revelstoke Rotary Club
– interviewed on Revelstoke radio
– interview with local magazine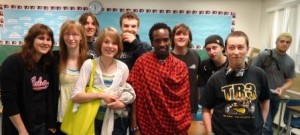 May 7:
– travel to Chase
– hosted by Sylvie Beillard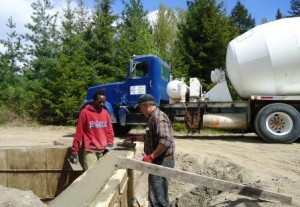 May 10:
– presentation, Lee Creek
May 11:
– presentation at Chase Secondary School
– hosted by Gordon Waterous
May 12:
– presentation, SaHali Secondary School, Kamloops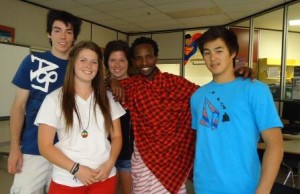 May 13:
– presentation – Invergary Adult Education Center, Surrey
– hosted by Yom Shamash
May 14:
– presentation – Lord Byng High School, Vancouver
May 15:
– travel to Nanaimo
– hosted by Jackie and Neil Worboys
May 17:
– presentation – Rotary Club – Bayside Hotel, Parksville
– presentation – Mark R. Isfeld Secondary School, Courtenay

May 18:
– presentation – Cumberland Elementary School, Cumberland
– presentation – PASS Woodwind Alternative School, Parksville
– presentation – Parksville Library, Parksville
– hosted by Shelagh Cronkite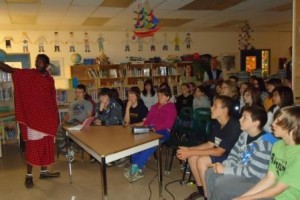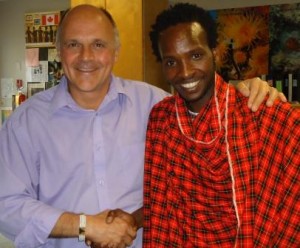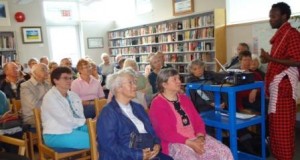 May 19:
– participates – Nanaimo District Secondary School Conference "A New View: Seeing the world with Different Eyes", Nanaimo
– hosted by Leslie King
May 20:
– presentation – Vancouver Island University, Nanaimo
May 21:
– travel to Bowen Island
– hosted by Ginger and Adrian van Lidth de Jeude
May 25:
– presentation – Bowen Island
May 26:
– travel to Surrey
– presentation to Surrey Teachers Association at Belle's Restaurant, Surrey
– hosted by Bev Ford
May 27:
– travel to Nanaimo
– hosted by Jackie and Neil Worboys
May 29:
– travel to Victoria
– hosted by Alison Hastings
May 30:
– presentation at CISV
May 31:
– presentation at Mt. Douglas High School, Victoria
– hosted by Jennine Downie
June 1:
– private dinner presentation
– hosted by Carol Hall
June 2:
– hosted by Mark Miller
June 4:
– travel to Yukon