Carrying on the Conversation
Visit The Continuing Conversation to see events and activities that The Kesho Trust continues to be involved with that promote our Nature Child Reunion concept.
Our Dedicated Website for this Initiative
www.naturechildreunion.ca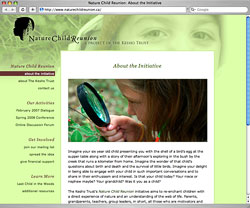 Please also visit the website for the Child and Nature Alliance. The Kesho Trust helped establish the Alliance, we strongly support its work and continue to provide the organization direction and leadership.
The Kesho Trust supports Richard Louv's conviction that addressing the separation of children and nature is not only crucial for children but also for nature. Only a society that is engaged and appreciative of the experience of natural environments will have the knowledge and commitment to protect and steward the natural world.
We believe that recent generations of children are losing their connection with the natural world, an occurrence that is having disastrous consequences for both our society and the environment. In his recent book, Last Child in the Woods: Saving our Children from Nature Deficit Disorder, Richard Louv argues that this disconnect with nature is linked to disturbing trends in today's children. We agree and point to statistics of rising levels of obesity, depression and attention deficit disorder as well as the high and increasing use of prescription drugs — in particular, anti-depressants — by pre-school children to support this contention.
A number of characteristics of our society are linked to these alarming patterns in children:
lack of natural surroundings in today's wired generation
increased homework and pressure for academic success; decreased access to natural areas
downward trends in environmental education by schools and government
lack of knowledge of the laws and concepts of nature
criminalization/demonizing of nature through media exploitation
The solutions — as close as our own backyard — can be extraordinarily beneficial. The exposure to nature is essential for early childhood development and will lead to future advocacy for nature protection.